Videos
Chest Attic
The attic you will visit is one of many in the Monastery of Quebec. This one is particular, because of its structure and function. Its architecture is an effective proof of the adaptation of French construction to the rigorous climate of New France. It was also in this loft that the nuns stored their personal chests containing everything they possessed upon entering the convent. By putting them in the attic forever, they said goodbye to their secular life. Today, some nuns still have their trunks in this attic. Others simply use it to store their winter coats and blankets, for example.
Video
* The video you will see is a reduced version of the 3D model. The image quality is compressed to suit most devices.
Map - 5th floor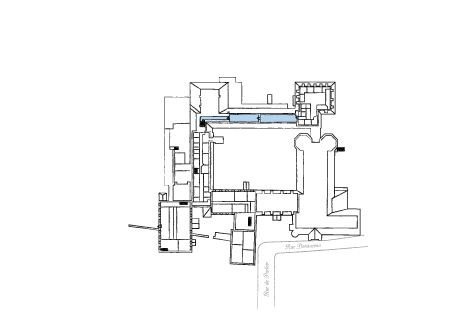 Transcription
0:00 - 0:05
We are in front of the entrance to the "chest attic".
0:05 - 0:10
Let's go through the doorway.
0:10 - 0:21
The monastery has several attics and granaries. The granaries were warm, dry places where items and some foods were stored.
0:21 - 0:40
We move forward a few steps, looking left and upwards, to the ceiling and beams. The architectural structure well demonstrates how the French architecture had adapted to our rigorous climate.
0:40 - 0:50
We return to the rear of the attic.
0:50 - 1:02
We go through the second door. There are really old trunks in this section. Let's take a closer look. Formerly, it was here that the Ursulines stored their chests containing memories of their secular life. Let's take the time to look at some of the chests.
1:02 - 1:21
Let's move slightly to the left to see another old trunk. When they entered the community, the nuns renounced life outside and put their past behind. Here we find chests dating back to the 17th century...
1:21 - 1:28
We return to the rear of the attic.
1:28 - 1:30
We turn to the left.
1:30 - 1:52
Take time for a last look at this place with a special atmosphere, as we make our way to the exit.
Objects